Soundavo's PSB-Series Single-Channel Subwoofer Amplifier
Soundavo's PSB-Series Single-Channel Subwoofer Amplifier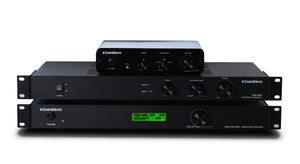 The PSB-Series subwoofer amplifier designed for the home theater and multi-room audio system
When you try to fit a passive subwoofer speaker in a wall and hard to find room in the wall for powerful amplification to drive that sub. For that, Soundavo's PSB-series subwoofer amplifier can delivers plenty of solid clean power with high fidelity, strong and deep bass frequency to drive medium-to-large sized in-wall or floor stand style subwoofer speakers. 
The PSB-200 delivers 200 watts from a compact chassis into a 4 or 8-Ohm subwoofer, the PSB-300 delivers 300 watts from a 1U chassis into a 4 or 8-Ohm subwoofer, and the PSB-400DSP provides 400 watts RMS @ 4 Ohms (1000 watts peak power ), and has built-in digital signal process (DSP), access the menu function screen for using the selection knob to choose and adjust Master Volume Level, Crossover Frequency, 4 different Crossover Slopes, Phase, 4 different Low Cut. 
Soundavo's PSB-series subwoofer amplifiers are features cool running light weight Class D amplification, Crossover/Phase Control, Audio On/Off Detects & Trigger, Stereo/Mono Line level LFE Input, Stereo Speaker Level Input/Outputs connector and passthrough for easy to work with older amplifier/home theater receiver do not have line level outputs.
Press Notes
Press Contact
support@soundavo.com  

Copyright 2020 Soundavo. All rights reserved. Soundavo and the Soundavo logo are registered trademarks in the United States and/or other countries.