Soundavo Launches MZ-Series Multi-Channel Integrated Digital Amplifier
Soundavo Launches MZ-Series Multi-Channel Integrated Digital Amplifier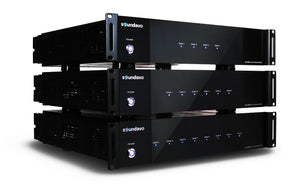 The MZ-Series Multi-Zone amplifier designed for the custom residential installation, multi-room distributed audio system
Soundavo announces a new MZ-Series multi-zone amplifier, which is a powerful and integrated high efficient Class D amplifier for cool operation. Comes with three models as 4 Zone/8 Channel, 6 Zone/12 Channel and 8 Zone/16 Channels, idea for power all the speakers in your custom residential installation, commercial audio, multi-room distributed audio system, or any sound application that where you need it for top-notch sound.
True multi-room workhorse that performs well with in-ceiling, indoor or outdoor speakers, the MZ-series amplifiers rated at 50 watts per channel into 8 ohms and 80 watts per channel into 4 ohms. With the Stereo/Bridge switch in the Bridge mode, each zone of channels are combined for a higher powered mono output of 160 watts into 8 ohms when needed.

Work of Art Hi-End Design, consisting of interlocking blocks of flawless acrylic, deeply brushed and anodized black aluminum with bright Blue LED power switch and zone status indicators brings this amplifier into the beautifully styled, elegant and impressively solid feel.

The MZ-series amplifier can share the same music from one audio source via RCA or S/PDIF as the Global Bus Input, or you can connect up to four external audio sources like a CD player, Sonos connect, Alexa Echo, networked music streamer via RCA Line Input to play a different one in each listening room. Each zone of MZ-series amplifier has individual volume adjustment for the left and right channels, giving you precise control over your system

Those amplifiers come with many functionalities such as Bridgeable Zones, Auto Sensing, Global Trigger Input/Output, Auto Standby, S/PDIF input, Two BUS inputs/outputs that receives audio signals from standard line-level audio sources and sends them to any or all channel.

- 50W per channel, bridged 160W per Zone
- Zones are bridgeable to create flexible power configurations
- Two common or BUS inputs that receives audio signals from standard line-level audio sources and sends them to any or all channels
- S/PDIF Optical Bus Input
- High efficiency, cool running digital amplification
- Global Trigger -Input/output triggers on/off for all zones on the bus input
- Zone Trigger -Independent trigger input/output on each zone for on/off
- Can be converted easily between rack-mount and tabletop configurations
- Heavy-duty steel chassis with black glass and brushed aluminum faceplate
More Information, please visit www.soundavo.com/collections/multi-channel-amplifiers
Press Notes
Press Contact
support@soundavo.com 

Copyright 2019 Soundavo. All rights reserved. Soundavo and the Soundavo logo are registered trademarks in the United States and/or other countries.