News
News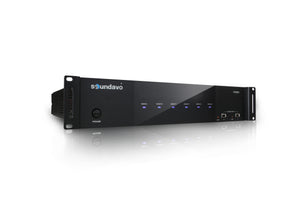 WS66i Whole-Home Audio Distribution System - 6 x 6 Matrix Amplifier Controller
The Soundavo WS66i whole-home audio distribution system as the 6 x 6 matrix amplifier controller, designed for custom integration with advanced Generation D technology. it is a functional, easy-to-install, highly compatible, expandable and used-friendly WiFi streaming audio distribution system. With few simple steps to install, it provides up to 100W power per zone by class D amplifier and distribute at most to 18 zones which all can be controlled by packaged keypads, IR remote controller or APP. 
With Soundavo WiFi streamer built-in and supports AirPlay/DLNA/UPnP & NAS up to 192kHz/24-bit, simply connecting the WS66i to the local Ethernet network, it let you access a wide variety of music from the 3rd party online music streaming services including TuneIn,Spotify, DEEZER, iHeartRadio and more, to play your favorite music wirelessly throughout your home for the multi-room listening experience.
You can stream your favor music from tablet or smart phone, to play the same song in every room or select a different song for each connected room, easily play all your music in multiple rooms from your favorite online music service or local input source.

Two USB ports on the front panel for playing music files from your library with the additional USB storage devices, connect to enjoy MP3, WAV, AAC and WMA files. 
An Optical digital input to manage the sound of a flat screen or a CD player to have high resolution of sound quality in each zone.
The overall distribution system including package device is easy-to-install, so every audiophile in every zone can use IR controller or keypads to enjoy the powerful audio. High functionality and performance bring you musical enjoyment just the way you want it.
More Information, please visit https://www.soundavo.com/collections/audio-system
Press Notes
Press Contact
support@soundavo.com 

Copyright 2020 Soundavo. All rights reserved. Soundavo and the Soundavo logo are registered trademarks in the United States and/or other countries.